News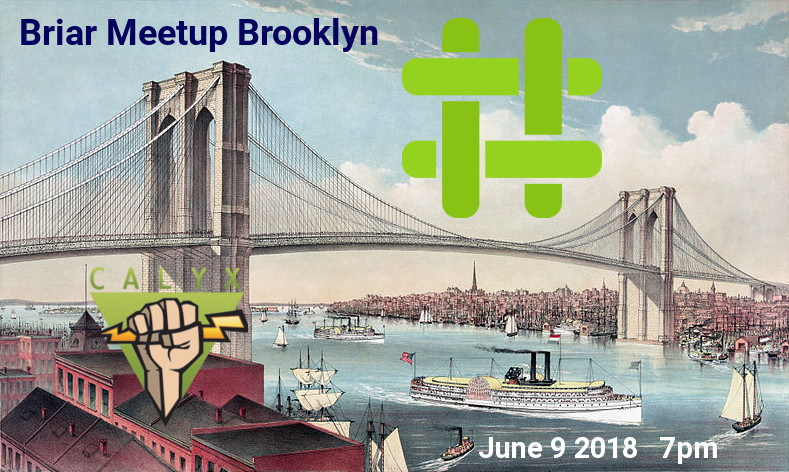 Briar is a messaging app designed for activists, journalists, and anyone else who needs a safe, easy and robust way to communicate. Unlike traditional messaging apps, Briar doesn't rely on a central server - messages are synchronized directly between the users' devices. If the internet's down, Briar can sync via Bluetooth or Wi-Fi, keeping the information flowing in a crisis. If the internet's up, Briar can sync via the Tor network, protecting users and their relationships from surveillance.
There will be a Briar Meetup in New York hosted by @calyxinstitute on Saturday June 9. No registration required. Just show up and meet a Briar developer.
This is a great opportunity to add more peers to your Briar contact list and try out the app with others (Android phone required).
When Saturday June 9th - 7pm Eastern time
Where
The Calyx...view
We have temporarily disabled 'Contributor' and 'Sustainer' memberships because of a lack of stock in ZTE Warp Connect hotspots. We are still offering memberships but now we only have one choice of hotspot instead of two.
Mobile Citizen has recently reported to us that they have seen a rise in the number of device returns for the ZTE Warp Connect hotspot. As reported, the most common problem has been the battery becoming swollen, which results in an inoperable device. Mobile Citizen has also informed us that in a limited number of instances, there have been reports that some hotspots have caught on fire.
Although Mobile Citizen does not know the specific cause they have notified their provider, Sprint, about this issue, and intend to work with Sprint to address this issue. Mobile Citizen has also informed the Consumer Product Safety Commission of these reports. We have not been notified of a recall as of the date of this statement, May 8th, 2018.
Please...view
We are super excited and very honored to have been chosen to be one of the contestants in DuckDuckGo's $500,000 Privacy Challenge fundraiser. Your help is essential to meeting this goal. The team that raises the most money gets $50,000 .. second place $40,000, all the way down to sixteenth place gets $3,000 .. and there are weekly bonus challenges for orgs to win another $247,000. And there are other challenges each week - for instance any donation made between now and April 10 at 1:59:59pm ET will be matched - dollar for dollar - up to $3,000 ! And if we can raise $5000 by the end of the week we would get entered to win an additional $5000.
Please give your support ( or join the team to recruit other supporters ) at https://www.crowdrise.com/o/en/campaign/the-calyx-institute
...view
Pages