News
Until recently we have been giving people who donate at the "Contributor Plus" membership level the option of getting a mobile data hotspot and the default one for that membership level has been the ZTE Pocket Wifi.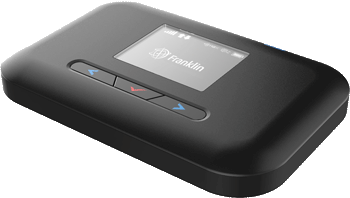 We have recently been given notice by our supplier that we can no longer obtain supplies of ZTE Pocket Wifi hotspots, and that they will be replaced with a new device, the Franklin R910.
The ZTE Pocket Wifi and Franklin R910 seem to be basically equivalent. On the mobile network side, they both support "carrier aggregation" for higher data speeds, and on the Wifi side they both support 2.4 ghz and 5ghz, and up to 10 client devices.
We are nearly out of ZTE Pocket Wifi units and when we...view
You can now renew your membership online using our Membership renewal page
You must be logged into your account in order to renew your membership.
Thanks for all the support !
view
We have some news about the 4G/LTE modems we are providing to our members at certain levels of donations. There has been a change in the make and model of hardware being supplied by Sprint, moving forward. The great news is the new modems should enable two highly sought-after functions that some of our members have been asking about ! External antenna capabilities AND USB tethering See below for details...

Franklin R850 being replaced with newer unit: the ZTE Warp Connect

Some time in the upcoming weeks, probably beginning in August or September, The Franklin R850 hotspot we currently give out will be replaced with the ZTE Warp Connect, another 4G only device.


The ZTE Warp Connect is a portable mobile access device that connects to the 4G LTE network and gives...view
Pages